"Letterkenny consists of hicks, skids, hockey players and Christians. These are their problems."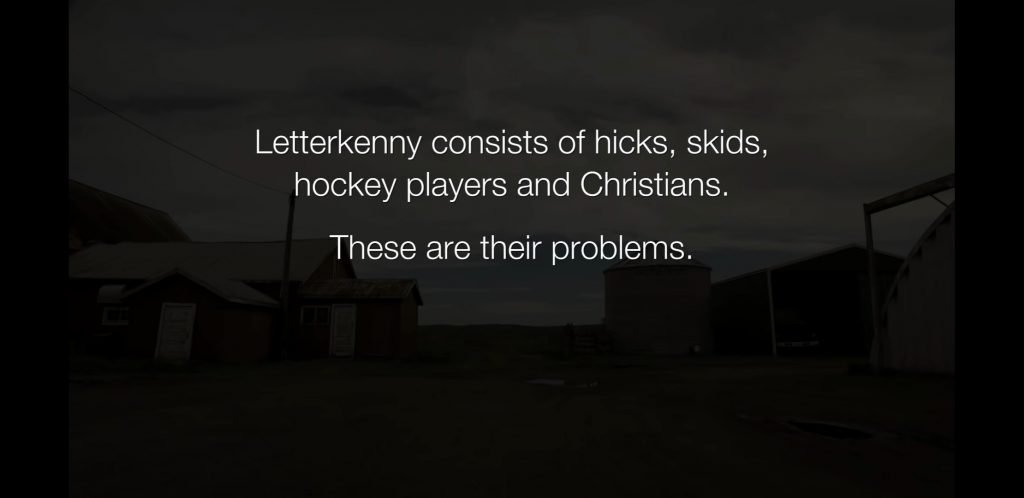 Our Thoughts on Letterkenny
Almost every episode starts with this bump, which fades out just before the main character gives a brief, lilting synopsis of what he dealt with "the other day". This structure, occasionally interrupted with brilliant cold-openings, gives the viewer an immediate understanding of what they're getting into with the Crave TV series, Letterkenny.
"Hey Wayne."
"Howareya now"
"Good and you?"
"Notsabad"
This charming exchange is "effortlessly" bounced back and forth in a Canadian approximation of a Southern US drawl, and the cadence of it is repeated throughout the series. Main character, Wayne (played by Jared Keeso), encounters other salt-of-the-earth types in his small agricultural town and sorts out problems in his own unique way. Along with his cohort Daryl (Nathan Dales), and their friend Squirrely Dan (K. Trevor Wilson), Wayne strives to maintain his simple, shirt-tucked agricultural life in a town that is struggling to keep up with the times.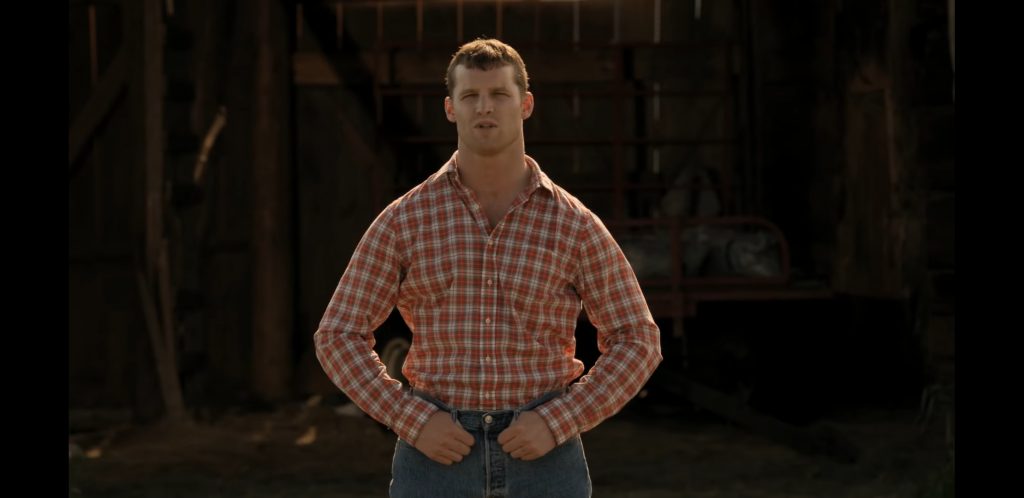 The beauty in Letterkenny is the writing, evidenced by the back-and-forth trades that occur in almost every episode, wherein the characters chuck insults, euphemisms, and hilarious idioms back at one another with such speed that you laugh on a 3-second delay while your brain struggles to keep up. Another surprising element is the quality of the fight scenes in the show. In an effort to maintain his quiet reign as the toughest guy in Letterkenny, Wayne finds himself beating the crap out of a wide range of tough-looking hicks. For an off-the-map show like this, the fight choreography is truly excellent. The final element to the panache that Letterkenny flaunts is the soundtrack. Crunchy synth house beats (e.g. Raptor by Rustie) mixed with excellent indie rap tracks (Dougie Gilmore [Chop! Chop!] by Annakin Slayd) and other asynchronous tunes create an environment that helps keep the show from coming off as insincere. The music is just pure fun, and I've already added a number of tracks from the show's soundtrack to my personal library.
With 5 seasons currently running and 3 holiday specials, Letterkenny is one of CraveTV's most successful releases, despite its lack of mass media notoriety. They've even had guest spots from people like Jay Baruchel, and Canadian snowboarders Craig and Mark McMorris. The number of recurring supporting actors gives the show a solid foundation, and the revisiting of these characters through developing storylines really provides a sense of community that, while very dysfunctional, is charming.
The show sounds simple, and it really is, but there's an undeniable chemistry in the simplicity. The dialogue is quotable, and contains tons of in-jokes that I've already started to adopt in my own group of friends. Letterkenny is definitely worth the watch, and stands alongside awesome Canadian programs like Trailer Park Boys as some of the best comedy to come out of the Great White North.
If you want to dig into Letterkenny for yourself, you can check it out on Hulu. We highly recommend you give it a chance. Let us know what you think in the comments below!