This site contains affiliate links to products. We may receive a commission for purchases made through these links.
As summer approaches, it's time for a heated episode of Super Gamecast 64! On this two-man show, Matt and Tyler discuss the latest news in the gaming industry, as well as the newest game releases. They also dig into the age old question; which Mega Man bosses are the most powerful? Also, get the latest scoop on monthly free games in the New Game Plus segment, where we discuss the free games on Playstation Plus in May!
You can listen to Super Gamecast 64 Episode 124 directly in your browser, on Apple Podcasts, or any of your favorite podcasting apps!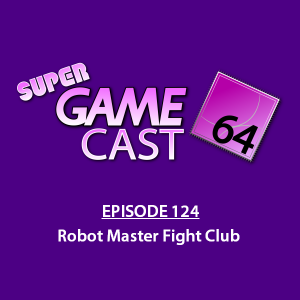 Show Notes
Here are the full show notes for Super Gamecast 64 Episode 124. Below, you can find links to purchase the various content we discussed on the show! If you would like to support Super Gamecast 64, please consider donating to the show or use the links below.
Intro
–Mega Man 2 versus Mega Man 3 bosses.
Test your skill against the classic Mega Man bosses by picking up the Mega Man Legacy Collection (Paid Link)!
News
–Reigns: Game of Thrones now available on Nintendo Switch!
–Ghost Recon: Breakpoint gets announcement and release date for October, 2019. (Paid Link)
Games
–Days Gone (Playstation 4)
–Capcom Beat 'Em Up Bundle (Switch, Xbox One, Playstation 4)
–Pirates Outlaws (Android/iOS)
New Game Plus (Playstation Plus May 2019)
In this section, we discuss the latest games that have been made available on the Xbox Games with Gold and Playstation Plus services. On Episode 124, we take a look at the free games for Playstation Plus in May of 2019.
–What Remains of Edith Finch
–Overcooked!
Get your subscription to Playstation Plus to receive these and other great games each month:
PlayStation Plus: 1 Month Membership [Digital Code] (Paid Link)
Playstation Plus: 3 Month Membership [Digital Code] (Paid Link)
PlayStation Plus: 12 Month Membership [Digital Code] (Paid Link)
Thanks for listening! Be sure to leave us a review on your favorite podcasting application, and look forward to Episode 125, where we will discuss all the news surrounding E3 2019!