This site contains affiliate links to products. We may receive a commission for purchases made through these links.
Download the Podcast
E3 2019 Predictions
The biggest gaming industry convention is just around the corner, so it's time for another Super Gamecast 64 tradition! Join us as we deliver our E3 2019 predictions, where all the new games of 2019 and beyond will be announced. With Microsoft, Nintendo, and others poised for an excellent show, E3 2019 should be exciting to say the least.
Besides our various E3 2019 predictions, this episode of Super Gamecast 64 also contains discussion on the latest games and announcements. We discuss a brand new handheld gaming device, some ultra-scary games, and even some retro Nintendo 64 classics!
You can listen to Super Gamecast 64 Episode 125 directly in your browser, on Apple Podcasts, or any of your favorite podcasting apps!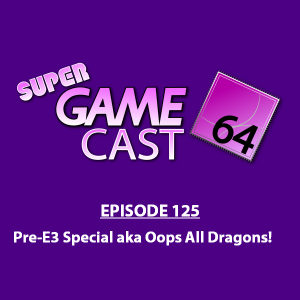 Show Notes
Here are the full show notes for Super Gamecast 64 Episode 125. Below, you can find links to purchase the various games and accessories discussed on the show. We may receive a commission for purchases made through these links. If you would like to support Super Gamecast 64, please consider visiting our donation page or using the links below.
Intro
-Kevin returns and discusses his special assignment, Star Wars Episode I: The Phantom Menace podracing memories.
Show your love for Streets of Rage and Phantom Menace by grabbing some merchandise and watching the movie again! (Paid Links)
News
-Panic announces the Playdate, a $150 black-and-white handheld console that will reignite your love for classic retro gaming.
–Sonic the Hedgehog movie delayed until February, 2020.
–Final Fantasy VII Remake gets a new trailer!
Be sure to grab Sonic Mania if you haven't yet; it's one of the best Sonic games ever made! Don't forget to pre-order your copy of Final Fantasy VII Remake on PS4 as well! (Paid Links)
E3 2019 Rumors
Throughout the show, we discuss our E3 2019 predictions and the latest leaks and rumors by dishing out Pre-E3 alerts! We take time to go over each of the major press conferences, and what we think will be shown. These include:
-Microsoft, Ubisoft, Bethesda, Nintendo, Square Enix, and more!
Games
–Layers of Fear 2
–Pirates Outlaws – Be sure to check out Kevin Kraus' opinion article on Pirates Outlaws for more information!
–Rage 2
Buy your copy of Rage 2 on Amazon for exclusive content! (Paid Links)
–Dauntless
–Life is Strange 2: Episode 3
Guide the Diaz brothers through their episodic adventure by purchasing your copy of Life is Strange 2! (Paid Links)
–Perfect Dark
Experience Joanna Dark's original FPS journey by grabbing a physical copy for Nintendo 64, a digital code for Xbox One, or the RARE compilation disc Rare Replay! (Paid Links)
Listener Question
On Episode 125 of Super Gamecast 64, we ask our audience another listener question! What modern game from this generation have you played the most? We want to know which recent title has been eating up your gaming hours! Let us know in the comments below or on our social media!
Thanks again for listening! If you enjoyed the episode, please leave us a review on your favorite podcasting application! We'll see your next time on Episode 126, when we discuss whether or not our E3 2019 predictions came true! This year is going to be massive, so we expect tons of news and announcements on Episode 126!