This site contains affiliate links to products. We may receive a commission for purchases made through these links.
Download the Podcast
Video Game Thanksgiving
Towards the end of November every year, we fill our plates with helpings of mashed potatoes, turkey, and a bit of stuffing too. We also fill our virtual plates with the latest holiday game releases, ranging from long-awaited sequels to daring new IPs. On this episode of Super Gamecast 64, the entire cast gathers around to discuss their latest gaming addictions, as well as the many exciting announcements in current industry news.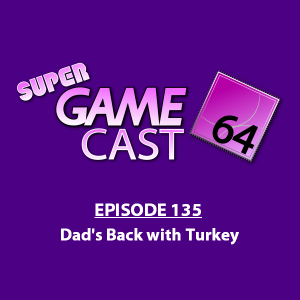 You can listen to our video game Thanksgiving special on your favorite podcasting applications, including Apple Podcasts, Stitcher, Spotify, and many others. You can also stream or download the show by using the player at the top of this article!
Episode 135 Full Show Notes
Here are the full show notes for Super Gamecast 64 Episode 135. If you would like to support the show, you can send us your holiday love by visiting our donation page. If you would like to hear us cover a specific game or topic on the show, please leave a note with your donation! We are incredibly grateful for our supportive audience and your continued donations.
The Biggest Gaming News of November 2019
Blizzard unleashes the first trailers for Overwatch 2 and Diablo IV at Blizzcon 2019.
Microsoft brings the heat at the X019 fan event, announcing new games for Xbox Game Pass, news on their streaming service xCloud and more.
Just Dance 2020 makes a splash on the decade-old Nintendo Wii, with the platform earning over 20% of total sales.
Paramount releases a new Sonic the Hedgehog movie trailer, with updated visuals after fan backlash.
The Google Stadia has launched to middling reception.
Geoff Keighley (aka the Dorito Pope) will be presenting his Video Game Awards on December 12th, 2019.
Our Thanksgiving Video Game Lineup
These are the games we've been playing the most throughout November. From Hideo Kojima's latest insanity to another installment in the Pokemon franchise, these are the titles we've been enjoying leading up to Thanksgiving.
–Death Stranding (PlayStation 4)
–Pokemon Sword & Pokemon Shield (Nintendo Switch)
–Call of Duty: Modern Warfare (PlayStation 4, Xbox One, PC)
–Ring Fit Adventure (Nintendo Switch)
–Afterparty (PlayStation 4, Xbox One, PC, macOS)
–The Outer Worlds (PlayStation 4, Xbox One, PC)
These are all the games we discussed on Episode 135! Grab your copy by using the links above. (Paid links)
Super Game Haiku
The riddles keep coming on Episode 135! We're giving you all another week to figure out Episode 134's riddle as well, so leave your guesses for both in the comments! You can also drop your guesses on our social media pages. Best of luck! Here's the Super Game Haiku from Episode 135:
Farmer boy alone.
Humid training, snow flight.
Risky plan. Dad's back.
Thanks for listening! Don't forget to sign-up for our newsletter so you'll always know when new content is added to Super Gamesite 64! During this limited time, the first 25 people to sign up for the newsletter get a bonus gift! If you enjoyed Episode 135 of Super Gamecast 64, please leave a review on your podcasting application of choice. We greatly appreciate it!