This site contains affiliate links to products. We may receive a commission for purchases made through these links.
Download the Podcast
Gamescom and More Keep Summer of 2019 Feeling Fresh
All praise Dorito Pope! Gamescom 2019 was a great end to August, providing us with countless announcements to get excited for. From Sony's purchase of Insomniac Games to the slew of surprises game reveals, there was more than enough to keep us amped. In addition to all of our coverage on Gamescom 2019, Episode 130 of Super Gamecast 64 also delves into the latest and greatest games on consoles, PC, and mobile!
We dig deep into what we've been playing latest, including the newest episode of Life is Strange 2, fantastic mobile games like Witcheye, and much more. Find out if these new releases are worth your hard-earned dollar as we deliver some judgment.
You can listen to Super Gamecast 64 Episode 130 on your favorite podcasting applications, including Apple Podcasts, Stitcher, Spotify, and many others. You can also stream or download the show by using the player at the top of this article!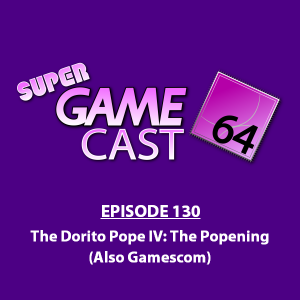 Show Notes
Here are the full show notes for Super Gamecast 64 Episode 130. If you would like to support the show, please consider visiting our donation page. If you would like to hear us cover a specific game or topic on the show, please leave a note with your recommendation! We are incredibly grateful for our supportive audience and your continued donations.
Special thanks go to donators Mike C and Kevin T for their contributions!
News
-Sony buys Insomniac Games, developers of hit games like Ratchet & Clank and Marvel's Spider-Man.
–Little Nightmares 2 gets announcement trailer
–Yakuza Remastered Collection announced for PlayStation 4
-Indie title Blasphemous gets release date of September 26th and a brand new trailer
-The Dorito Pope himself will appear in Hideo Kojima's highly anticipated PlayStation 4 game, Death Stranding
–PUBG to receive console cross-play this year
-Gamestop lays off over 120 corporate staff, including editors at Game Informer magazine
Hottest Games We Played in August 2019
–Life is Strange 2: Episode 4
–Crash Team Racing: Nitro Refueled
–Disneyland Adventures
–Moonlighter
Here are all the console games we covered on Episode 130! Grab your copy by using the links above. (Paid links)
Why is Waldo from Where's Waldo Hiding?
We try to figure out this haunting question posed to us in a recent donation. Did we find Waldo, or did Waldo find us?
Feeling nostalgic? Grab a copy of the 30th Anniversary edition of the original Where's Waldo book or the Ubisoft-developed Where's Waldo video game! (Paid links)
Tyler's Mobile Corner for August 2019
Tyler helps you with your mobile gaming fix by providing some more excellent suggestions in this edition of Tyler's Mobile Corner! From silly mainstream spin-offs to amazing indie adventures, here are the games we covered.
–Dragalia Lost
Top 5 Beefiest Boys in Gaming
Here's another great "top 5" that turned into more of a top "as many as we can think of" list. Proposed by a recent donation, we discuss our favorite thicc men from video gaming history.
Super Game Riddle
Think you've got a quick wit and can solve the trickiest of brain teasers? See if you can figure out the subject of this riddle, presented by our resident poet Kevin:
This one's obscure and maybe not fair,
but this robot maid has choppy green hair.
Her attitude is sweet, her skills aren't fake,
saving Doctor Theo with a quick "shake, shake!"
Leave your answer in the comments below! Congratulations to all of our listeners to correctly guessed the answer to the riddle from Episode 129! The correct answer was Link from The Legend of Zelda.
Thanks for listening! Don't forget to sign-up for our newsletter so you'll always know when new content is added to Super Gamesite 64! If you enjoyed Episode 130 of Super Gamecast 64, be sure to leave a review on your podcasting application of choice.