This site contains affiliate links to products. We may receive a commission for purchases made through these links.
Download the Podcast
August Continues to Unleash a Torrent of Gaming Excitement
Although Gamescom 2019 is right around the corner, the first few weeks of August had a decent amount of shaking and moving in the gaming industry. On this episode of Super Gamecast 64, the gang comes together to discuss all the latest happenings in this beloved industry of ours. In addition to a major switch-up from iconic streamer Ninja, August has also had its fair share of gaming goodness to dig our sweaty paws into.
In addition to covering the latest gaming news from August of 2019, the Super Gamecast 64 crew discusses all manner of exciting games both modern and retro. From the freshest indie games to some beloved RPGs from the past, Episode 129 of Super Gamecast 64 will have you reeling with nostalgia and digging into some of the best games of August 2019.
You can listen to Super Gamecast 64 Episode 129 on your favorite podcasting applications, including Apple Podcasts, Stitcher, Spotify, and many others. You can also stream or download the show by using the player at the top of this article!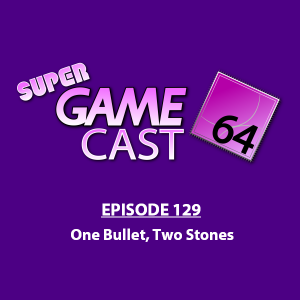 Show Notes
Here are the full show notes for Super Gamecast 64 Episode 129. If you would like to support the show, please consider visiting our donation page. If you would like to hear us cover a specific game or topic on the show, please leave a note with your recommendation! We are incredibly grateful for our supportive audience and your continued donations. Enjoy the show!
News
-Iconic streamer "Ninja", most well known for his insanely popular Fortnite streams, has officially moved his streams from Twitch to Microsoft-owned Mixer. The move marks a surprising shift, and might generate some much-needed competition in the explosive game-streaming industry.
-A list of media personnel who attended the E3 game conference was made public on the official E3 website, essentially revealing the personal information of over 2,000 journalists. This incredible breach of privacy has left some gaming journalists appropriately furious as they become swamped with unwarranted contact from the public.
-One of our favorite games of all time, Rocket League, will be dropping loot boxes in favor of a more consumer-friendly cosmetic marketplace. Changes are expected to be made by the end of 2019.
-The "Super Duper Graphics Pack" for Minecraft has finally been canceled after several years of delays and obvious signs of developmental issues.
The Best Games of August 2019
–Torchlight & Torchlight 2
–The Blackout Club
-Blazing Chrome
–Bloodstained: Ritual of the Night
–Gears of War 4
These are all the various games we covered on Episode 129! Grab your copy by using the links above! (Paid Links)
Playstation Plus Free Games for August 2019
-Playstation Plus subscribers can download both Sniper Elite 4 and the Wipeout: Omega Collection on their PlayStation 4 throughout the month of August.
Super Game Riddle
Think you've got a quick wit and can solve the trickiest of brain teasers? See if you can figure out the subject of this riddle, presented by our resident poet Kevin:
A brave hero far from his home,
walks through layers of time unknown.
Overcoming a scourge,
Wisdom, power, and courage,
It's dangerous going alone.
Leave your answer in the comments below!
Thanks for listening! Don't forget to sign-up for our newsletter so you'll always know when new content is added to Super Gamesite 64! If you enjoyed Episode 129 of Super Gamecast 64, be sure to leave a review on your podcasting application of choice.