This site contains affiliate links to products. We may receive a commission for purchases made through these links.
Download the Podcast
The Best Games of Summer 2019
As the summer heat kicks in, what better way to chill off and relax than a brand new episode of Super Gamecast 64? On this episode, Matt and Tyler join up for another duo show, highlighting the greatest summer games and the latest gaming news. With July already almost over, we've seen some of the best games of summer 2019.
In addition to our coverage of the new games of summer, we also discuss Summer Games Done Quick 2019, as well as the new Nintendo Switch Lite! Despite the plethora of news from E3 2019, it seems like there's still plenty of announcements to keep the news fresh.
You can listen to Super Gamecast 64 Episode 127 on Apple Podcasts, Stitcher, or directly in your browser by using the player at the top of this page!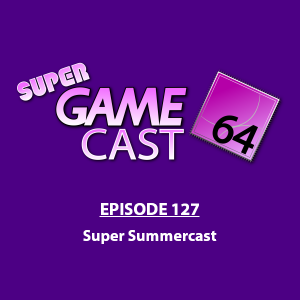 Show Notes
Here are the full show notes for Super Gamecast 64 Episode 127. If you would like to support Super Gamecast 64, please consider visiting our donation page. Enjoy the show!
News
-Summer Games Done Quick 2019 reaches over $3 million in donations. For more on this exciting speedrun marathon, check out our article on the best speedruns from SGDQ 2019.
-Nintendo just announced the brand new Nintendo Switch Lite! You can check out more information by reading our article about the announcement of the Nintendo Switch Lite.
Thinking about grabbing an original Nintendo Switch? Grab your system by using the links above! (Paid links)
Games
-Stranger Things 3: The Game
-Bloodstained: Ritual of the Night
-Outer Wilds
-Harry Potter: Wizards Unite
-Dr. Mario World
-Super Mario Maker 2
Games With Gold July 2019 & Playstation Plus Free Games July 2019
-Xbox Live Gold subscribers can download Castlevania: Symphony of the Night, INSIDE, Big Crown: Showdown, and Meet the Robinsons.
-Playstation Plus subscribers can download Detroit: Become Human and Horizon Chase Turbo.
Thanks again for listening! If you enjoyed the episode, please leave us a review on your favorite podcasting application! We'll see your next time on Episode 128, where we find out what Kevin got up to on vacation and discuss the newest games including Marvel Ultimate Alliance 3 and Wolfenstein: Youngblood.