Everything From E3 2019
E3 2019 has come and gone, and in its wake, a slew of video game news. As is tradition, this episode of Super Gamecast 64 is a breakdown of all the various conferences, announcements, and livestreams that were seen at E3 2019. From the Xbox Briefing to the Nintendo E3 Direct, the SGC64 crew cover all the latest gaming news out of the Electronic Entertainment Expo.
In addition to our extensive E3 2019 coverage, we also discuss a few of the latest games we've been playing. Including the excellent Legend of Zelda: Cadence of Hyrule and Forza Horzion 4: Lego Speed Champions, this episode is packed with interesting games, news, and announcements. Enjoy!
You can listen to Super Gamecast 64 Episode 126 on Apple Podcasts, Stitcher, or directly in your browser by using the player at the top of this page!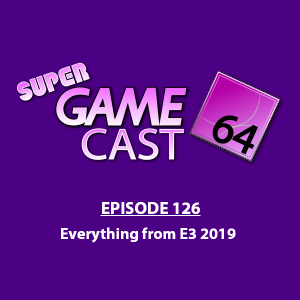 Show Notes
Here are the full show notes for Super Gamecast 64 Episode 126. If you would like to support Super Gamecast 64, please consider visiting our donation page. Enjoy the show!
Intro
-Super Gamesite 64 is now live! If you're reading this, you've already had some time to poke around our website. Thanks for checking us out and don't forget to sign up for our newsletter!
-E3 info leaker was contacted by Nintendo lawyers, so don't mess with Nintendo (seriously).
News
-EA Play brings Jedi: Fallen Order and other games to kick off E3 2019.
-Microsoft announces Xbox Game Pass Ultimate, the new Xbox console, and much more at their Xbox E3 2019 Briefing.
-Bethesda saves face and announces Fallout 76 content, Elder Scrolls Online expansions, and shed some light on new upcoming games.
-Ubisoft brings shooters galore at their E3 2019 press conference, along with Gods & Monsters and Rainbow Six Quarantine.
-Square Enix delivers more JRPGs than you've ever seen at their E3 2019 press conference, as well as revealing the first information about Marvel's Avengers.
-Nintendo dominates E3 2019 with a slew of excellent announcements, including: Animal Crossing, Luigi's Mansion 3, Super Smash Bros Ultimate DLC, and more.
Super Game Riddle
E3 is a time for new stuff, so what better episode to introduce a new segment? Kevin introduces audiences to a new ending segment, wherein they must figure out his dastardly riddles and poems. After you're done with the episode, leave us a comment with your answer to the riddle on this post!
Thanks again for listening! If you enjoyed the episode, please leave us a review on your favorite podcasting application! We'll see your next time on Episode 127, where we discuss Summer Games Done Quick 2019 and the various games we are playing!