Download the Podcast
The Best Halloween Gaming Podcast Event of 2019 Begins!
It's the scariest time of year! Welcome to the premier Halloween gaming podcast event, Spooktober! All of the Super Gamecast 64 episodes during October are horror-themed, mixing some spooky segments into our normally scheduled program. On this spine-tingling episode, we pit horror game character against each other in Horror Game Deathmatch! Plus, we discuss the Games Done Quick Express marathon at Twitchcon, as well as the announcement of the PlayStation 5. All this, plus our thoughts on the latest releases, on the best Halloween gaming podcast of the holiday season!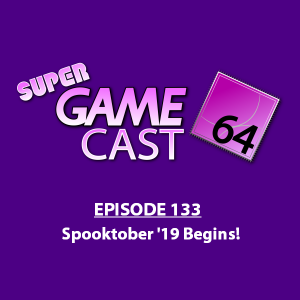 You can listen to Super Gamecast 64 Episode 133 on your favorite podcasting applications, including Apple Podcasts, Stitcher, Spotify, and many others. You can also stream or download the show by using the player at the top of this article!
Episode 133: Spooktober '19 Begins Show Notes
Here are the full show notes for Super Gamecast 64 Episode 133. If you would like to support the show, please consider dropping us a few bones (ooo, spooky!) by visiting our donation page. If you would like to hear us cover a specific game or topic on the show, please leave a note with your recommendation! We are incredibly grateful for our supportive audience and your continued donations.
The Latest Gaming Announcements and Industry News
-The speedrun mini-marathon Games Done Quick Express 2019 ran during Twitchcon, raising over $150,000 for AbleGamers charity. Check out our list of the best speedruns from GDQx at Twitchcon!
-Sony officially announces the PlayStation 5, which will be releasing during the winter holiday season of 2020
The Latest Games of October 2019
–Mario Kart Tour (Mobile)
–Destiny 2: Shadowkeep (Xbox One, PlayStation 4, PC)
–White Night (All Major Modern Platforms)
–WACCA (Arcade)
–Resident Evil 0 (All Major Modern Platforms, Gamecube)
Super Spooky Game Riddle
In keeping with the festive spirit, the Super Game Riddle for Episode 133 is horror-themed! With that hint, we're hoping you'll be able to crack this admittedly tough gaming riddle. Can you guess what character the riddle is describing? Leave your answer in the comments below or on any of our social media platforms!
Dressed to the 9's like a private eye,
This dapper guy just won't die.
Like the Energizer Bunny he just won't stop,
Stalking city cops 'til his knee drops.
He's gonna give it to ya, ready or not,
Hope you brought your sneakers cause he's coming in hot!
Thanks to everyone who participated in the riddle for Episode 132. The correct answer was Fox McCloud from the Star Fox franchise!
Thanks for listening! Don't forget to sign-up for our newsletter so you'll always know when new content is added to Super Gamesite 64! During this limited time, the first thirty people to sign up for the newsletter get a bonus gift! If you enjoyed Episode 133 of Super Gamecast 64, please leave a review on your podcasting application of choice. We greatly appreciate it!