This site contains affiliate links to products. We may receive a commission for purchases made through these links.
Download the Podcast
The Biggest News from San Diego Comic-Con 2019
August has shown its face, which means the summer is coming to an end. Despite the influx of news we had at the beginning of the season (mostly due to E3 2019), there has been a steady stream of new announcements and things to get excited for as the summer continues. On this episode of Super Gamecast 64, the entire crew sits down to dissect the various announcements of San Diego Comic-Con 2019, as well as discuss the newest games.
In addition to the coverage of San Diego Comic-Con, we also discuss the European Speedrunners Assembly Summer 2019 Marathon, which raised tons of cash for the Swedish Alzheimer's Foundation. We also detail the latest gaming industry news, covering both some exciting stories and a few bummers.
You can listen to Super Gamecast 64 Episode 128 on Apple Podcasts, Stitcher, or directly in your browser by using the player at the top of this page!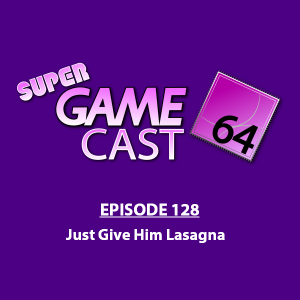 Show Notes
Here are the full show notes for Super Gamecast 64 Episode 128. If you would like to support Super Gamecast 64, please consider visiting our donation page. Enjoy the show!
News
-San Diego Comic-Con 2019 had some pretty awesome stuff, including the Marvel Cinematic Universe Phase 4 announcements!
-Netflix just dropped the trailer for their adaptation of The Witcher! Check out the trailer below.
-The European Speedrunner Assembly raised $85,000 for the Swedish Alzheimer's Foundation
–Defiant Development, creators of Hand of Fate and Hand of Fate 2, close their doors for good.
–Outer Worlds will be releasing on Nintendo Switch, as well as the highly anticipated kart racer, Garfield Kart: Furious Racing.
New Video Games of August 2019
–Marvel Ultimate Alliance 3: The Black Order
–Bloodstained: Ritual of the Night
–Mainlining
–Wolfenstein: Youngblood
–A Plague Tale: Innocence
These are all the games we discussed on Episode 128! Grab your copy of them by checking out the links below each title. (Paid links)
Xbox Games with Gold for August 2019
-Xbox owners can download Gears of War 4, Torchlight, Forza Motorsport 6, and Castlevania: Lords of the Shadow throughout August.
Thanks again for listening! If you enjoyed the episode, please leave us a review on your favorite podcasting application! We'll see your next time on Episode 129, where we continue our quest to deliver the most exciting and topical content in video gaming.