This site contains affiliate links to products. We may receive a commission for purchases made through these links.
Download the Podcast
The Best of 2019 Awards: Part One
2019 has come to an end, which marks our annual Best of the Year podcast series. As with every year, we're spending the final episodes of this season of Super Gamecast 64 discussing our favorite games from 2019. In each episode, we'll focus on a few award categories, discuss the nominees, and pick a winner and runner-up. On the first installment of the Best of 2019 Awards series, we'll be deliberating the Best Fighting Game, Best Shooting Game, and Best Mobile Game of 2019.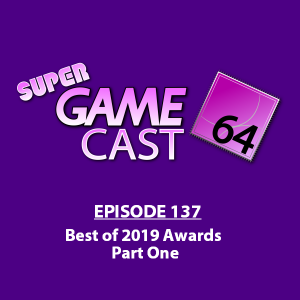 To listen to our Best of 2019 podcast, you can either stream it on your favorite podcasting application, or use the player and download link at the top of the page. Be sure to subscribe to our RSS feed in the side bar, as we'll be delivering more Best of 2019 episodes in the coming weeks!
Best of 2019 Awards Part One Show Notes
Here are the full show notes for Super Gamecast 64's Best of 2019 Awards Part One. If you would like to support the show, you can send us your end-of-season thanks by visiting our donation page. If you would like to hear us cover a specific game or topic on the show, please leave a note with your donation! We are incredibly grateful for our supportive audience and your continued donations.
The Most Welcoming Game of 2019
In this category, we're recognizing games that encourage play for levels of all skill. Whether it's a family-friendly title with easy controls or an irresistible and addictive mobile game with a simple premise, these are the games we thought were some of the most approachable games of the year. These nominees are excellent games to introduce to your non-gamer friends, or any player who might need an easier learning curve.
Nominees:
Tetris 99 (Nintendo Switch)
Yoshi's Crafted World (Nintendo Switch)
Stranger Things 3: The Game (All Major Consoles)
Witcheye (Mobile)
Super Kirby Clash (Nintendo Switch)
Grab your copy of these select nominees in physical or digital form using the links above! (Paid links)
The Best Fighting Game of 2019
This category is pretty self-explanatory, as we are looking for the best game about beating the crap out of your opponent. 2019 had a good mixture of sequels and new IPs in the fighting genre, and we had fun picking out our favorite.
Nominees:
Mortal Kombat 11 (All Major Consoles)
Jump Force (PC, Xbox One, PS4)
Soul Calibur VI (PC, Xbox One, PS4)
Skullgirls (Mobile)
Smash through a slew of fighters in these select nominees by grabbing a physical copy using the above links! (Paid link)
The Best Shooting Game of 2019
While this list of nominees contains its fair share of first-person shooters, we included all of the gun-focused games of 2019 on this list. In the last few years, the shooter genre has shifted further towards the competitive online scene and further away from the single-player campaign, but the nominees on this list had a great mixture of both. Whether they nailed the hectic nature of competitive gunfights or laid out well-designed missions of shooting mayhem, these were the shooting games that we appreciated the most in 2019.
Apex Legends (PC, Xbox One, PS4)
Far Cry: New Dawn (PC, Xbox One, PS4)
Tom Clancy's The Division 2 (PC, Xbox One, PS4)
Blood & Truth (PSVR)
Wolfenstein: YoungBlood (PC, Xbox One, PS4)
Gears of War 5 (PC, Xbox One)
Borderlands 3 (PC, Xbox One, PS4)
Call of Duty: Modern Warfare (PC, Xbox One, PS4)
Scratch that itchy trigger finger with any of these select nominees by grabbing a copy using the links above! (Paid links)
Thanks for listening! Don't forget to sign-up for our newsletter so you'll always know when new content is added to Super Gamesite 64! For a limited time, the first 25 people who sign up for the newsletter get a bonus gift! If you enjoyed Episode 137 of Super Gamecast 64, please leave a review on your podcasting application of choice. We greatly appreciate it.