Download the Podcast
A Very Merry Gamecast Christmas
Happy holidays from us to you! It's the annual holiday special of Super Gamecast 64! As we bid farewell to the final normal episode of Season 5, the entire cast gathers around to discuss the latest games. We also highlight some fantastic multiplayer games for the holidays and look forward to the Best of 2019 awards.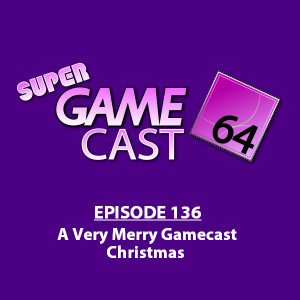 Plus, another discussion about the Dorito Pope himself and the 2019 Video Game Awards, as well as a look at the latest indie games shown off by Nintendo. You can listen to our video game Thanksgiving special on your favorite podcasting applications, including Apple Podcasts, Stitcher, Spotify, and many others. You can also stream or download the show by using the player at the top of this article!
Episode 136 Show Notes
Here are the full show notes for Super Gamecast 64 Episode 135. If you would like to support the show, you can send us your holiday love by visiting our donation page. If you would like to hear us cover a specific game or topic on the show, please leave a note with your donation! We are incredibly grateful for our supportive audience and your continued donations.
News
The 2019 Video Game Awards were a decent night of interesting announcements, fun performances, and memorable guests. Oh, and the new Xbox and PlayStation 5 both made an appearance.
The Nintendo Indie World showcase shows off tons of fun games, including Skatebird, Supermash, Boyfriend Dungeon, and more.
The MOBA title Battleborn will be shutting down its servers in the next two years. The game has been removed from digital storefronts.
Hideo Kojima, creator of Metal Gear Solid and Death Stranding, is eyeing the horror genre for his next big game.
Elder Scrolls Blades has been delayed on Switch as the developers rework the loot system.
Best Multiplayer Games for Holiday Hangouts
In case you missed it, we put out an article that detailed some of our favorite multiplayer games to play during the holidays. We discuss the included titles, as well as some classic games you may not have thought of!
The Last 2019 Game Lineup
These are the games we've been enjoying as we speed through the holiday season with reckless abandon. From Star Wars to Shovel Knight, there's a little something for everyone on this Christmas special!
–Pokemon Sword and Shield (Nintendo Switch)
–Star Wars Jedi: Fallen Order (PC, Xbox One, PlayStation 4)
-Williams Pinball Volume 5 Pack (PC, Xbox One, PlayStation 4, Nintendo Switch)
–Steamworld Heist (All Major Consoles and Handhelds)
–Children of Morta (PC, Xbox One, PlayStation 4, Nintendo Switch)
-Untitled Goose Game (Nintendo Switch, Xbox One, PlayStation 4, PC)
–Jumanji: The Video Game (Nintendo Switch, Xbox One, PlayStation 4, PC)
–Shovel Knight: King of Cards (All Major Consoles and Handhelds)
–Remnant: From the Ashes (Xbox One, PC, PlayStation 4)
Thanks for listening! Don't forget to sign-up for our newsletter so you'll always know when new content is added to Super Gamesite 64! During this limited time, the first 25 people to sign up for the newsletter get a bonus gift! If you enjoyed Episode 135 of Super Gamecast 64, please leave a review on your podcasting application of choice. We greatly appreciate it!