Most of 2020 sucked really bad, there's no question about that. We endured a lot. Whether it was the raging global pandemic, an election fit for a dumpster fire, or a growing sense of uneasiness and unrest, 2020 was jam-packed with positively fantastic bullshit that no one wanted to deal with. What better year then, for video games to swoop in and save the day (or what remained of it)? From the games that kept us entertained during quarantine to the titles that let us vent our frustrations, I do not doubt that video games helped everyone keep a bit saner throughout the year. Simply put, at least 2020 had some good games. In fact, this year had a smattering of quality titles in almost every genre, ensuring that no gamer was left unsatisfied. As we sit back and reflect on the year behind us, let's take a moment to appreciate the best games of 2020.
As always, this list is entirely subjective. Just like with my list of the best games of 2019, your favorite title might not earn a spot. Making the cuts for this list was tougher than I expected, so if your personal game-of-the-year doesn't appear, don't take it too hard. When you consider just how hectic this year was, there's a decent chance we missed some hidden gems. If you think we missed a particularly good game, be sure to let us know in the comments! Listed from the bottom to the top, these are our picks for the best games of 2020.
The Top 10 Games of 2020
10. Streets of Rage 4
The beat 'em up genre holds a very special place in my heart, stemming from significant childhood gaming memories in both the arcade and at home. From the classic Teenage Mutant Ninja Turtles arcade game to classic home console titles like Mighty Morphin Power Rangers on the Super Nintendo, iconic beat 'em ups have been guiding my gaming career since the very start. When I think of big beat 'em up franchises that really mean a lot to me, Streets of Rage stands out. I can't count the number of hours that my friends and I spent smashing buttons while playing the fantastic original trilogy on Sega Genesis. That said, when Streets of Rage 4 released over 20 years after the last game, I had some pretty high expectations.
Luckily, the majority of those expectations were met in full. Not only is Streets of Rage 4 a fantastic beat 'em up game, but it celebrates the classic 16-bit trilogy in some really engaging ways. It plays like most classic beat 'em ups, letting you and up to three other friends (or just two players online) beat the crap out of baddies across 12 different levels. There's some light storytelling involving a new villainous duo called the Y Twins, but the main focus is on throwback gameplay that feels both cathartic and invigorating. What makes Streets of Rage 4 special is its many extra playable characters, unlocked by earning points as you naturally play the game. Without spoiling too much, Streets of Rage 4 includes a bevy of iconic characters, both in their modern animated and classic pixelated form.
Thanks to both the addictive character unlocks and a truly satisfying combat system, Streets of Rage 4 was one of my most replayed games this year. During the week of release, I probably played through the game 6 or 7 times, enjoying it in solo play, local co-op, and online multiplayer. I got to share the game with some longtime beat 'em up fans along with a few newcomers to the genre, and everyone had an equally wonderful time. Despite the glitz and glamour of most big-budget AAA games, Streets of Rage 4 proves that sometimes all you need is hard-hitting combat, groovy tunes, and plenty of unlockable characters to keep the good times rolling.
Grab your physical copy of Streets of Rage 4 using the links above! (Associate link)
9. Resident Evil 3
Capcom has been doing a stellar job with their recent Resident Evil titles, from the horrifyingly grotesque first-person Resident Evil VII to the long-awaited remake of Resident Evil 2. In a bit of a surprise, Capcom announced that their next remake, the lesser-loved but still solid Resident Evil 3, would be arriving much sooner than expected. Although it was bundled with a mostly forgettable multiplayer mode that sizzled out ultra-quick, the Resident Evil 3 remake was a stunningly fun and highly replayable horror title that was perfect for longtime fans and newcomers alike.
In this offbeat and mostly linear adventure, S.T.A.R.S member Jill Valentine teams up with the Umbrella Rescue Squad, namely a burly and muscular dude named Carlos, in an attempt to survive one night in the zombie-infested Raccoon City. Taking place around the same time as Resident Evil 2, RE3 sees our protagonists blasting down zombies in the streets, in a hospital, and of course, in a secret lab, combining anxiety-inducing atmosphere with classic Resident Evil-style gameplay.
Despite the game's brief 6-hour length, there are plenty of bonus challenges that unlock powerful new weapons and useful items for subsequent playthroughs, encouraging players to keep reliving this often goofy and ridiculous night of horror. With impressive visuals, solid controls, and a satisfying gameplay loop, Resident Evil 3 was a well-designed and polished remake that completely took me by surprise.
8. Yakuza: Like a Dragon
Yakuza: Like a Dragon is the eighth game in the long-running Yakuza series by SEGA, which offers players a wild ride through the world of underground crime in a slightly fictionalized Japanese city. Whereas the first seven Yakuza games told the tale of Kazuma Kiryu, a high-ranking member in the Japanese yakuza, Yakuza: Like a Dragon introduces us to a brand new protagonist, supporting cast of characters, and a familiar yet unique story. In addition to the new cast and narrative, Yakuza: Like a Dragon also features an entirely re-designed combat system, trading out the older beat 'em up-style fighting for a more strategic, turn-based experience.
When it comes to Yakuza games, they're my guilty pleasure. As a big fan of classic beat 'em ups, the Yakuza franchise was one of the only remaining modern series that had firm roots in the genre. With the big change from beat 'em up gameplay to modern, turn-based combat, I was worried Yakuza: Like a Dragon would be my exit-point for the franchise. However, due to the game's completely wild and campy story, surprisingly addictive combat, and totally tongue-in-cheek attitude, it quickly became one of my favorite entries in the series.
In many ways, Like a Dragon feels like the natural evolution for Yakuza, a franchise that has steadily grown more and more irreverent with each sequel. Like a Dragon embraces everything that's weird and quirky about the franchise, transforming into a consistently entertaining and unpredictable ride. There's an endless barrage of content, from the incredibly long list of in-game challenges to dozens of side-quests and open-world activities. The mini-games are even more complex and ridiculous than before, ranging from a Mario Kart-style racing circuit to an in-depth business management simulator. Like every great Yakuza game, Like a Dragon grabs your attention with a wacky world and endearing cast of characters, then holds that attention for dozens of hours with immensely entertaining content. For fans of RPGs or just weird games in general, Yakuza: Like a Dragon is an easy inclusion on a list of the best games of 2020.
Grab a physical copy of Yakuza: Like a Dragon or pre-order your PlayStation 5 copy using the links above! (Associate link)
7. Assassin's Creed: Valhalla
Generally speaking, Assassin's Creed: Valhalla had some significant weight riding on its success. AC: Valhalla was the designated next-gen launch game, as eager PlayStation 5 and Xbox Series X owners looked for a big-budget, flashy open-world game to show off their new systems. Both of the previous Assassin's Creed games, Origins and Odyssey, were received rather well by both reviewers and fans. By changing up the structure of missions and re-introducing some older gameplay mechanics, AC: Valhalla took some big risks. Fortunately, those risks paid off, resulting in a thoroughly enjoyable adventure that solidifies the strength of the modern Assassin's Creed formula.
While some gamers might complain about the "checklist" nature of open-world games developed by Ubisoft, I found the gameplay loop in Assassin's Creed: Valhalla to be both cathartic and exciting. By taking a good chunk of the side-content and categorizing them all as "mysteries" to uncover, exploring England as the skilled Viking warrior Eivor stayed consistently interesting. Coupling the inherently intriguing exploration with a deep progression system, AC: Valhalla grabbed my attention with its plethora of content. Plus, the combat is super brutal.
Between the epic main story quests, it was tons of fun to ride around the sprawling map on horseback, investigating the many points-of-interest on the map. Overall, AC: Valhalla offers a pretty significant landmass, leading players on a never-ending quest to see it all. With an expansive leveling system, the emphasis on upgrading a settlement, and plenty of other RPG stylings, Assassin's Creed: Valhalla kept the franchise alive for yet another adventure.
6. Animal Crossing: New Horizons
After a multi-year hiatus, the Animal Crossing franchise made a big, big splash on the Nintendo Switch at exactly the right time. This cute and comfy lifestyle game released right as the big 2020 lockdown was starting, and with people feverishly looking for new distractions and hobbies to occupy their time, Animal Crossing was plenty attractive.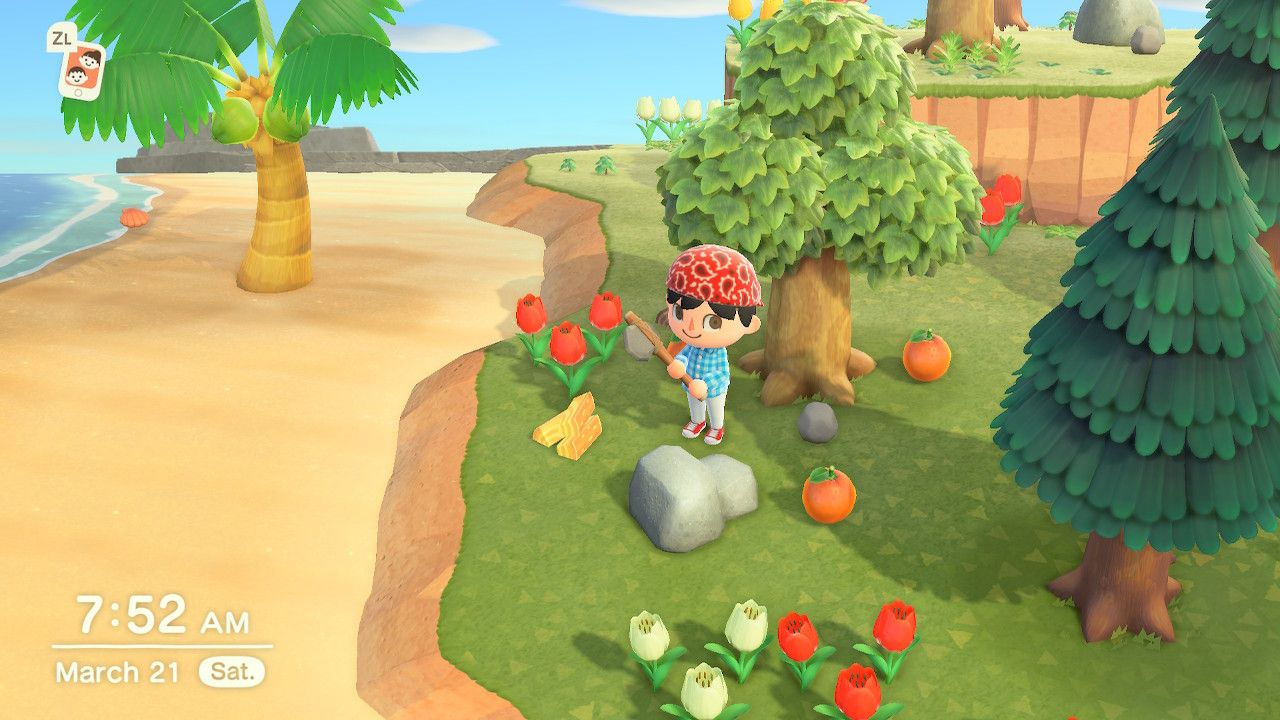 The concept is simple; you've been whisked away on vacation to a deserted tropical island, where you quickly form your own mini-town and interact with the other characters on your journey. A grubby, money-hungry raccoon named Tom Nook offers a seemingly endless loan, allowing you to upgrade your home and town accommodations while slowly paying him back. There are tons of unique cosmetic items to craft, letting you decorate your humble abode with exceptional creative freedom.
In truth, a lot of Animal Crossing: New Horizons is busy work. You'll run around the island planting trees, catching bugs and fish, and crafting various items to sell to Tom Nook. New mechanics are introduced slowly, such as the ability to change the island's topography, allowing you to add rivers, waterfalls, and lots of other neat geographical features. There are hundreds of anthropomorphic villagers who will come to stay on your island, each with a unique and identifiable personality. Maintaining your island, paying off your debt to Tom Nook, and interacting with your neighboring villagers is consistently entertaining and relaxing, offering a chill gameplay loop that's perfect for killing time. It's no wonder why this forever-cheerful island getaway was such a hit during the lockdown.
5. Tony Hawk's Pro Skater 1 + 2
If you grew up playing games in the early 2000s, there's a good chance you've played a Tony Hawk's Pro Skater game. Back in the PlayStation 2 era, this extreme skateboarding franchise was as popular as Madden Football and Call of Duty are today. With new games in the series coming out almost yearly, it wasn't long before the Tony Hawk's Pro Skater brand started to diminish in quality. However, after a few failed attempts, the first two Tony Hawk's Pro Skater games have been remade with impeccable precision, offering an experience that's equal parts modern skateboarding fun and a retro nostalgia bomb.
In this excellent remake, players are free to skate through every level from the first two Pro Skater games, remade with crisp and gorgeous modern graphics. In addition to the awesome Career mode, the THPS 1 + 2 remake also offers some entertaining competitive multiplayer (both local and online), a fully-fledged custom park creator with online sharing capabilities, and much more. There are over 700 brand new challenges to complete, dozens of new pro skaters to play as (plus the ability to create your own), and a handful of classic secrets to uncover.
Not only is this remake packed with content, but it's simply a blast to play, never growing old or repetitive. Whether you're a fan of the classic THPS titles or you're completely new to skateboarding games, Tony Hawk's Pro Skater 1 + 2 is a fantastic game and easily one of the best games of 2020.
Grab your physical copy of Tony Hawk's Pro Skater 1 + 2 using the links above! (Associate links)
4. The Last of Us Part II
The Last of Us Part II was arguably the most anticipated PlayStation 4 exclusive of them all, garnering so much rabid hype that the internet was almost unbearable in the weeks surrounding the launch. This sequel to the classic 2013 action game was met with divisive reactions from both fans and critics, mostly centered around the game's story, tone, and depictions of violence. Taking place several years after the events of the first Last of Us game, The Last of Us Part II continues the story of Ellie, Joel, and other fan-favorite characters as they attempt to survive a virus-ridden, post-apocalyptic United States.
While some fans were severely taken aback by the game's gratuitous gore, depressing atmosphere, and gut-wrenching violence, we thought it gelled perfectly with Naughty Dog's vision of a world gone to hell. While the story itself might pale in comparison to the first game's plot, almost everything about The Last of Us Part II is better than its predecessor.
Without spoiling too much, The Last of Us Part II is a highly cinematic tale that focuses on the cyclical nature of revenge. It's a thoroughly brutal experience, in both the gameplay and story, offering an adventure that's at times too depressing and uncomfortable to watch. Like the previous game, players scavenge and survive as they work their way through a post-apocalyptic world, stealthily snuffing out any enemy that stands in their way. The combat feels almost disgustingly violent, due in part to the wicked sound design, which makes every dying enemy's blood-soaked gurgles and screams crystal clear. When the story isn't busy punching you in the gut with some of gaming's most upsetting moments, it's an anxiety-inducing road-trip through the depraved crumbles of society. That said, taking your time and exploring The Last of Us Part II is very rewarding, thanks to the game's immense polish, attention-to-detail, and fantastic visuals. In 2020, The Last of Us Part II helped us feel even more shitty, but in an oddly good way.
3. Spiritfarer
Spiritfarer is a hard game to describe, which makes it an even harder game to convince people to try. Developed by Thunder Lotus Games, a collective of indie game creators based in Montreal, Spiritfarer puts players in charge of their own fantasy ferry, sailing through the waters of the afterlife. Playing as Stella, the brand new "spiritfarer" on the River Styx, it's your job to discover lost souls and guide them to their final resting place. You do this by fostering the souls on your ship, slowly upgrading the boat with new rooms and decorations.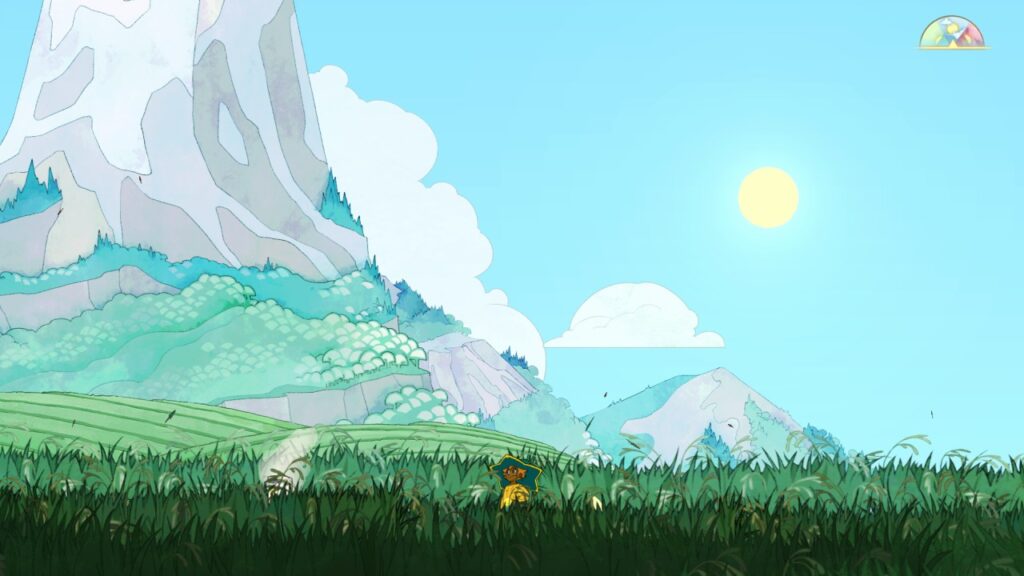 It's part open-world adventure, part management-sim, part narrative-driven platformer, with many more influences and genre-mechanics scattered throughout. While this might sound overwhelming, Spiritfarer nails the onboarding process, slowly introducing players to new ideas through a comfortable blanket of simple and satisfying gameplay.
There's so much more that can be said about Spiritifarer's unique blend of gameplay features, but it's best to let you play it yourself and find out. Luckily, the gameplay isn't even the best part of this wonderful indie title. The plot itself is engaging and well-written, offering rich character-arcs based around each anthropomorphic soul you discover. Visually speaking, Spiritfarer is absolutely stunning, presented in a hand-drawn art style that is animated to perfection. Combined with a palette that makes proper use of the full spectrum of color, Spiritfarer is easily one of the most aesthetically pleasing games of the year. As other games grew boring or tiresome, Spiritfarer remained consistently entertaining, uplifting, and hard to stop playing. Simply put, in a year as rough as 2020, few games were as relaxing and comfy as Spiritfarer.
2. Doom Eternal
Sometimes you just need to rip and tear the world to shreds, and there was no better game for that in 2020 than Doom Eternal. Created by one of the best FPS developers of all time, iD Software, this wickedly fast-paced and blood-soaked sequel took everything awesome about DOOM (2016) and kicked it up a notch. Playing as the unbelievably powerful Doom Slayer, you'll blast and bash your way through expertly designed levels, packed to the brim with monstrous hellspawn and gory viscera.
In Doom Eternal, the armies of Hell have been unleashed on the Earth, and only a soldier as aggressive and brutal as the Doom Slayer can hope to repel them. Everything's faster, there are tons of new power-ups and enemies, and the gameplay is twice as challenging. For fans of the FPS genre, Doom Eternal offers an immensely satisfying shooter experience that pushes your skill to the limit.
There's a lot to love about Doom Eternal, from the metal-as-fuck level design to the variety of new gameplay mechanics. In addition to the new power-ups, enemies, and weapons, Doom Eternal introduces some intense platforming into the mix, testing your skill in navigation and awareness. Every enemy feels distinct and requires a different approach, resulting in a fast-paced dance of bullets, dodging, and melee attacks. Levels are littered with secret areas and bonus challenges, offering a slightly nostalgic structure to this modern sequel. Plus, the soundtrack is one of the heaviest, most exhilarating collection of songs that I've ever had the pleasure of listening to, which vibe well with Doom Eternal's breakneck pace. If you consider yourself a fan of first-person shooters, Doom Eternal is not to be missed.
Get a physical copy of Doom Eternal on Xbox/PS4 or a digital copy for Nintendo Switch using the links above! (Associate links)
1. Ghost of Tsushima
Sucker Punch Productions has been making top-tier video games for the better part of 20 years, so it's no surprise that their latest title clenches the top spot on our list. Responsible for the inFamous and Sly Cooper franchises, Sucker Punch has proved that they can make compelling, open-world action games with tons of style and character. In Ghost of Tsushima, players step into the shoes of Jin Sakai, a talented swordsman living on the lush and beautiful island of Tsushima in 13th century Japan. When the island is invaded by hostile Mongolian forces, Jin must rise to the occasion and save his family and home before they are destroyed. In true Sucker Punch fashion, this heroic tale of honor and duty offers a gorgeous world to explore, engaging side-activities, and some seriously satisfying sword combat.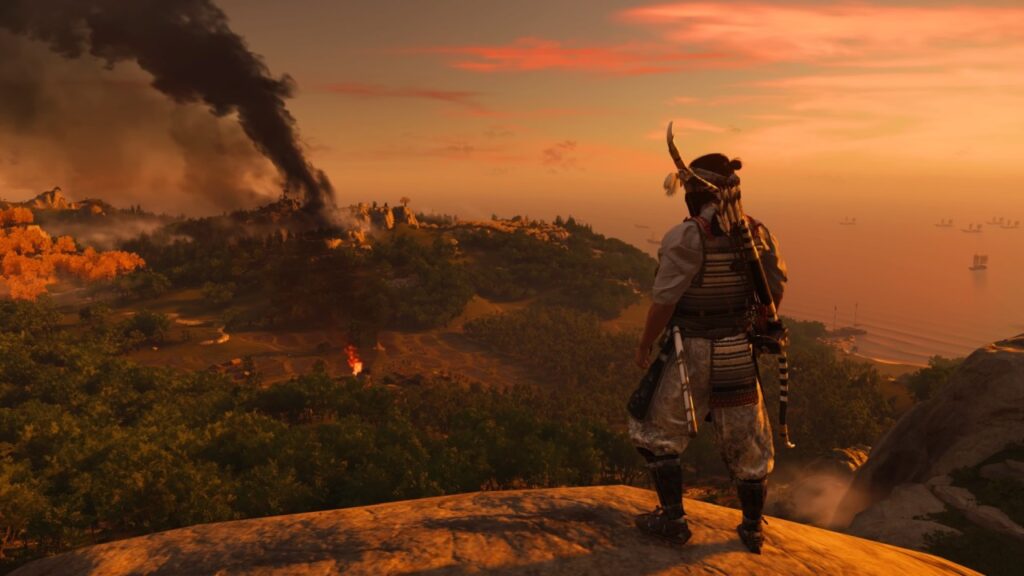 Where other open-world games grow repetitive or tedious, Ghost of Tsushima remains interesting and engaging. Whether you're practicing a new sword-stance on a group of unlucky foes, writing a haiku on a peaceful hillside, or laying siege to an enemy-controlled fort, Ghost of Tsushima is satisfying and full of personality. Like the classic samurai films it draws inspiration from, Ghost of Tsushima is a beautifully cinematic journey, framed with perfection and drenched in vivid color.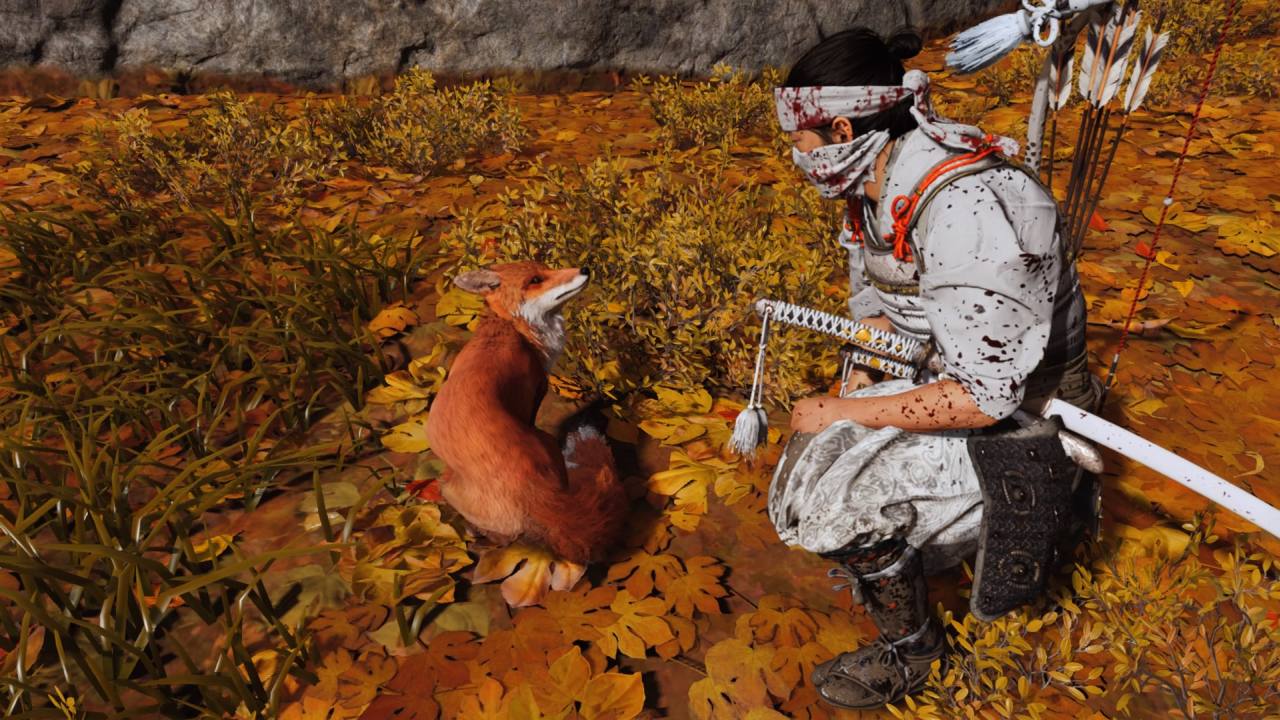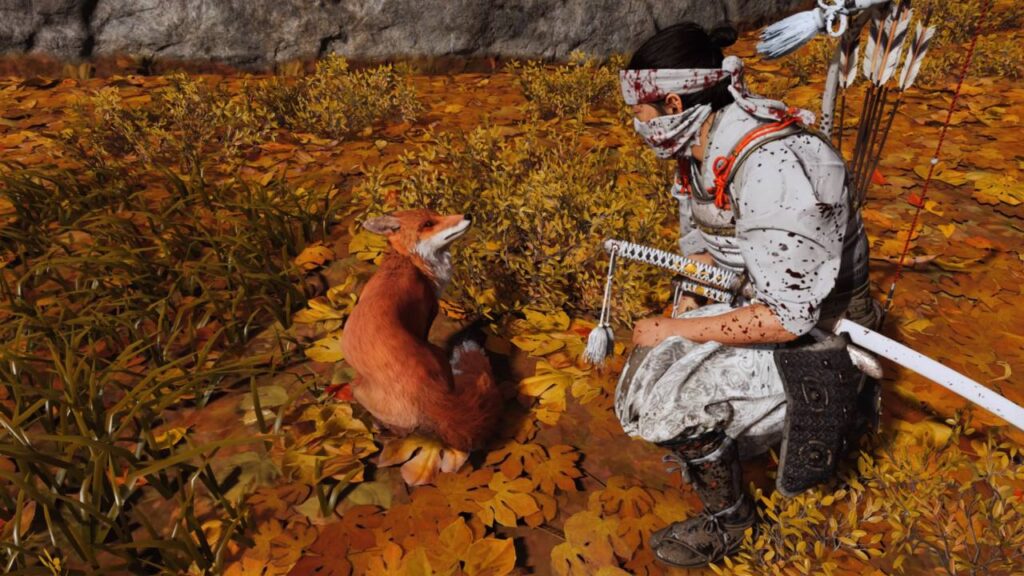 At times, it's incredibly easy to lose yourself in the game's immersive and gorgeous world, galloping on your horse across lush fields of flowers as you figure out your next destination. More than any other open-world game this year, Ghost of Tsushima had me completely enthralled in its many mechanics, encouraging me to become the best samurai I could be. No matter how interesting the plot became, I took the time to explore every inch of the map, uncovering upgrades, defeating wandering warriors, and mastering the art of the kill. Although a few other games came close, Ghost of Tsushima got me invested like no other game this year, earning the top spot on our list of best games of 2020.
---
We hope you enjoyed our list of the best games of 2020! If you're looking for more best-of-the-year lists, check out our best boss fights of 2020 article or our list of the most disappointing games of 2020. What was your favorite game of 2020? Let us know in the comments below!
This site contains affiliate links to products. We may receive a commission for purchases made through these links.