Halloween is one of the best times of the year, there's no doubt about it. The weather is brisk and wonderful, the changing leaves are dazzling in their color, and the sweet smell of pumpkin-spiced everything fills the air. Better yet, Halloween brings everyone together and reminds us what really matters – bloody horror entertainment combined with an irresponsible consumption of candy. If you're anything like me, you like to spend your October playing the scariest horror games, watching the bloodiest slasher flicks, and chowing down on Reese's Cups shaped like droopy pumpkins.
While we can't conjure up peanut butter and chocolate for you to enjoy, we've done the next best thing. Listed below are some of our choices for the best horror games you can play in celebration of Halloween. For all you super scaredy-cats, we've included a couple of lighthearted and festive titles that should be up your alley. Either way, dive into any of these recommendations and enjoy some of the best horror games around!
Our Halloween 2020 Scary Game Recommendations
In case you missed it last year, we also whipped up this awesome list of horror games to enjoy on Halloween, so if you're looking for more suggestions, give it a look.
Just like last time, we've included a "Scare Rating" to give you a better idea of the level of intensity you should expect. The lower the Scare Rating, the fewer nightmares you should have.
1. Layers of Fear
Whenever I think of disorientating, subversive horror games that consistently manage to surprise me, Layers of Fear sits near the top of the list. In this trippy, psychological horror game, you play as a twisted artist attempting to finish his masterpiece painting. As you explore the halls of his sprawling Victorian mansion, you'll start quickly calling your perception into question. Doors disappear as you turn away from them, revealing shadowy hallways where unknown horrors await. Time and space are continuously distorted as the disturbed painter sinks deeper into madness. By the time the experience is over, you'll likely have a hard time discerning the truth from delusion.
The constant subversive exploration is a signature design element of Blooper Team, the wickedly smart developers of Layers of Fear. Better than most other video games, modern or classic, Layers of Fear forces players to call their own sanity into question. The never-ending labyrinth of increasingly creepy rooms and environments makes the horror elements that much more terrifying, especially as the plot reaches its numerous disturbing peaks. If you're looking for a great horror game to play on Halloween, Layers of Fear provides plenty of scares without resorting to the standard blood-soaked horror fare.
Scare Rating: 3/5 Stars
Available On: Nintendo Switch, PC, PlayStation 4, Xbox One
2. Until Dawn
In many horror games, you can usually peg who's going to live or die right from the start. Much like classic slasher flicks, horror games often fall into the same stereotypical trap of bumbling characters who make consistently ridiculous decisions. While Until Dawn still falls prey to these genre tropes, it doesn't feel as silly, as you have a direct hand in the fate of every cast member. Until Dawn follows the story of eight friends who find themselves stranded in a snowy mountain range in Canada, chased down by a psychopath killer with an immense bloodlust. Although Until Dawn focuses more on narrative and decision-making than most horror games, there's still an ample supply of blood and guts.
If you're familiar with other narrative-driven games like Heavy Rain, Detroit: Become Human, or The Dark Pictures Anthology, you'll find Until Dawn super easy to pick up. As you work your way through the game's multiple story chapters you'll be forced to make various life-or-death decisions. If you make the wrong move, any of the characters can die, ultimately changing the overall narrative. This butterfly-effect style storytelling gives Until Dawn a huge replayability factor, ensuring that every playthrough feels unique in some regard. It's also a fantastic game to play with a group of friends, with everyone weighing in on the big decisions. As long as you're not averse to jump-scares and some surprisingly gory kills, Until Dawn is an easy pick for a spooky horror game to play this Halloween.
Scare Rating: 3/5 Stars
Available On: PlayStation 4
3. Dead Space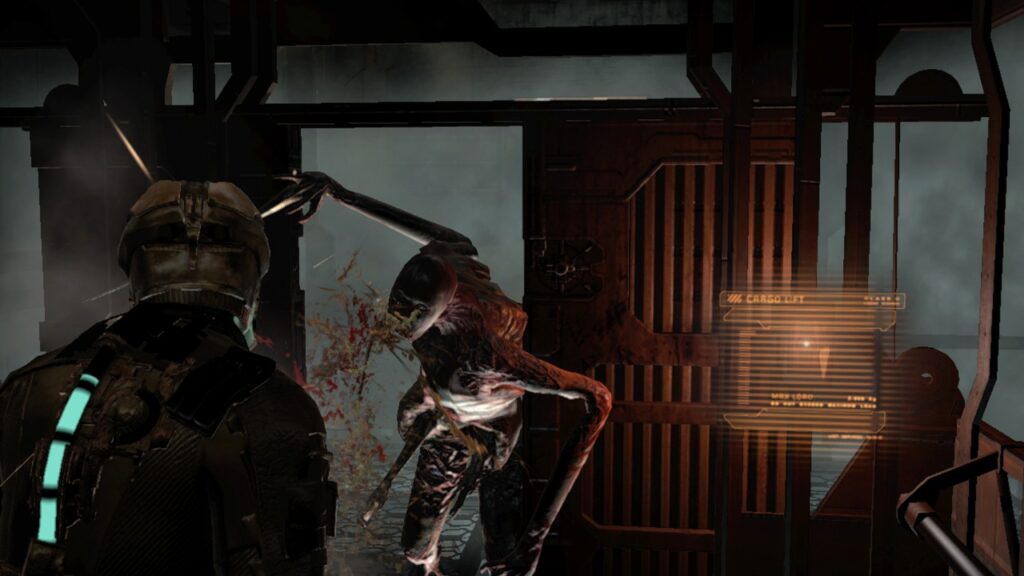 The Dead Space franchise is easily one of the most terrifying and bloody science fiction series of all time, as it effortlessly blends disturbing body horror with intriguing sci-fi elements. It's also suspenseful as all hell, guaranteeing you'll rarely have a moment of mental peace. While we recommend all of the Dead Space titles for various reasons, we're recommending the first Dead Space game for our 2020 Halloween horror game pick. Playing as the space-savvy engineer Isaac Clarke, you'll take a terrifying and isolated journey through the seemingly abandoned spaceship, the Ishimura. Unfortunately for Isaac, he's not alone on the Ishimura, as the ship has been overrun by grotesque aliens known as Necromorphs. Using a variety of futuristic weapons and gadgets, Isaac must discover the truth behind the Ishimura's demise while battling the multi-limbed Necromorphs that hide in every nook, cranny, and vent there is.
Many gamers consider the original Dead Space one of the scariest horror games of all time and for good reason. Not only is the atmosphere thick with anxiety and terror, but the combat is bloody and frenetic. Necromorphs are way stronger than your average baddies and cannot be simply dispatched with a few headshots. In order to defeat these deceptively quick beasts, you'll have to dismember them limb by limb, reducing them to pathetic, crawling monstrosities. If you're not careful, Isaac will quickly become mincemeat, often ending his adventure in a fountain of gore. According to the Alien movie franchise, "in space, no one can hear you scream". In the case of Dead Space, that's actually a good thing, as the screams you'll illicit might be loud enough to burst an eardrum.
Scare Rating: 4/5 Stars
Available On: PC, PlayStation 3, Xbox 360
Pick up any of the games in the Dead Space trilogy using the links above! (Affiliate links)
4. Costume Quest 2
If you still want to enjoy a spooky game to play on Halloween but don't want to get scared out of your wits, Costume Quest 2 is here to save the day! We featured the original Costume Quest on our first Halloween games list, so if you haven't played the original, we highly suggest doing that first! In this spooky sequel, players dive deep into a turn-based trick-or-treating adventure, once again playing as either of the adorable twins, Wren and Reynold. Following their previous adventure, the twins must once again return to Halloween Night, only this time, it's in a different dimension! In an effort to stop their twisted, Halloween-hating dentist Dr. Orel, Wren and Reynold must travel back and forth through time to prevent the holiday from becoming banned.
Like the first game, Costume Quest 2 features exceptionally easy-to-learn gameplay mechanics, making it a brisk and enjoyable nighttime stroll through a variety of thematic locales. As you trick-or-treat around various environments, you'll encounter evil goblins and ghouls that want to steal your candy. Using your enhanced costumes, you attack, defend, and execute special moves in simplistic turn-based battles. There are additional costumes to unlock and equip, extra side-quests to complete, and plenty of candy to collect! While it's not exactly the scariest horror game to play on Halloween, it's definitely one of the most festive. For big fans of Halloween, Costume Quest is a must-play franchise.
Scare Rating: 0/5 Stars
Available On: PC, PlayStation 3 & 4, Wii U, Xbox 360 & Xbox One
5. Night in the Woods
Like Costume Quest 2, Night in the Woods is an occasionally creepy game that's best for gamers who don't want to get too frightened, but still want to enjoy the Halloween festivities. In this indie narrative-driven adventure, you play as Mae, an anthropomorphic cat who has dropped out of college and moved back in with her parents. With each passing day, you'll explore Mae's breezy and cozy hometown of Possum Springs, hanging out with friends and chatting it up with other townsfolk. Everyone in Possum Springs is some sort of cartoon-like animal, whether it's a snappy alligator or a fiendish fox. Combined with the unique art-style and focus on dialogue and narrative, Night in the Woods offers a notably chill and aesthetically pleasing experience.
You might be asking yourself, "How is this a Halloween game?", which is a fair question. Although Night in the Woods doesn't seem too creepy upfront, the game has a surprisingly dark narrative especially once you hit the halfway point. Better yet, a majority of the game takes place during Autumn, with the Possum Springs Harvest Festival acting as the big setpiece in the story. It's great fun to leisurely walk around town, enjoy the chilly and spooky atmosphere as the town gets ready for Halloween night. While Night in the Woods won't scare you nearly as much as some of the other games on this list, it's still exceptionally spooky at times and consistently festive. If you're looking for a spooky game to play on Halloween, but shooting zombies and turn-based trick-or-treating doesn't sound like fun, consider taking a stroll through Possum Springs.
Scare Rating: 1/5 Stars
Available On: Nintendo Switch, PC, PlayStation 4, Xbox One
6. Outlast 2
Ah, Outlast 2, the horror game for people who really want to be emotionally scarred. While that might be overselling things a bit, this sequel to the developer Red Barrel's breakout horror hit rarely pulls the punches. Packed with all things disturbing, including excessive gore, particularly disturbing imagery, and plenty of "what the f**k" moments, Outlast 2 practically begs you to put the controller down and start thinking happy thoughts. In the game, you control Blake Langermann, a cameraman exploring the Arizona desert with his journalist wife, attempting to solve a mysterious murder case. Unfortunately, during a helicopter crash seemingly ripped straight out of Call of Duty, Blake and his wife get separated, forcing him to trek through the desert while searching for his beloved. As luck would have it, scorpions and snakes are the least of Blake's worries, as he soon discovers a deranged cult hiding in the hills. Armed with only his night-vision camera, Blake must outwit and outlast (sorry, I couldn't help myself) his opposition, otherwise he might end up gutted and crucified… or worse.
Generally speaking, Outlast 2 is a game that I don't recommend to newcomers in the horror genre. In fact, at times, Outlast 2 is outright revolting. It deals with some incredibly heavy topics that are arguably better left to the imagination, presenting them in grotesque detail with barely any shame. Even if you're unaffected by shocking imagery, Outlast 2 will probably find a way to dig under your skin, as the game hits almost every major phobia with startling effectiveness. Whether you're scared of the dark, open water, tight spaces, bugs, or anything else, Outlast 2 probably contains a scene that will press those fears very, very hard. If you've looked at all of the other horror games on this list and thought to yourself, "Nah, those are baby games, give me some really disturbing stuff", go ahead and load up Outlast 2. When it comes to controversial and objectively depressing content in horror games, Outlast 2 leads the pack.
Scare Rating: 5/5 Stars
Available On: Nintendo Switch, PC, PlayStation 4, Xbox One
The physical versions of Outlast 2 are pretty rare. You can secure a copy using the links above! (Affiliate links)
---
We hope you enjoyed our list of spooky horror games to play on Halloween! If your horror game cravings have yet to be fulfilled, be sure to check out our ranked list of every Amnesia game!
This site contains affiliate links to products. We may receive a commission for purchases made through these links.