2018 gave us plenty of excellent movies, ranging from fresh new stories to sequels and adaptations. From the big budget to the indiest of indies, 2018 excelled on all fronts in the movie world. There were countless movie events, including the ten year anniversary of the Marvel cinematic universe, propelling 2018 forward as another standout year for cinema. In 2018, I watched just over 50 movies. It was tough whittling them down to my favorite ten, and it was even harder ranking that list. There's a good chance some of your favorite films of 2018 won't end up on this list, but that doesn't mean they weren't considered. At the end of the year, these were the ten movies that stood out from the pack. They wowed, they gripped, and they made me love the art of film making. Here are our picks for the top 10 movies of 2018.
10. Deadpool 2
With a bigger budget and more action than before, Deadpool 2 surprised audience by being a sequel that didn't suck. The first Deadpool movie was such a worldwide hit, I didn't expect Fox and friends to knock it out of the park the second time around. Who would've thought that Ryan Reynolds gun-twirling his way through two hours would've been this exciting the second time around? Although the script is slightly weaker than the original movie and Deadpool 2 lacks the "originality" factor, it was still a blast to watch. New characters like Cable (Josh Brolin) and Yukio (Shioli Kutsana) kept the cast growing, and the standout performance from young Julian Dennison as Firefist was refreshing. Foul-mouthed as ever, Deadpool 2 was a surprisingly good return of our favorite raunchy superhero.
9. Incredibles 2
Speaking of super hero returns, another long-awaited sequel finally released in 2018. Disney's The Incredibles first released in 2004, and audiences fell in love with the Parr family. A five-piece family of superheros trying to lead a normal life, the movie did a great job blending relatable familial drama with fantasy action. Incredibles 2 brings us back to the life of the Parr family, once again trying to live as a normal family despite their super powers. Incredibles 2 was by-the-numbers in terms of sequels, but it felt comfortable and familiar. The movie was a fun reunion of beloved characters, and contained some pretty solid action. Those with nostalgia for the first film were mostly satisfied, as Incredibles 2 lived up to the hype, despite the 14 year wait.
8. Black Panther
The Marvel train kept coming in 2018, and few standalone films exemplify that like Black Panther does. Over the past ten years, audiences have been devouring every new superhero story that Marvel has put on the screen. You might think that moviegoers have become superhero franchise fatigued, and while that's somewhat true, the hype around Black Panther was almost unbelievable. That hype was justly earned, as Black Panther turned out to be a beautiful and imaginative origin story. It also made a huge impact on our movie culture, proving that diversity in films is a great thing. Both the cast and crew of Black Panther was packed with immense talent, and that developed on screen. It's not the most bombastic or exhilarating Marvel film to date, but it's definitely one of the most aesthetically pleasing.
7. Eighth Grade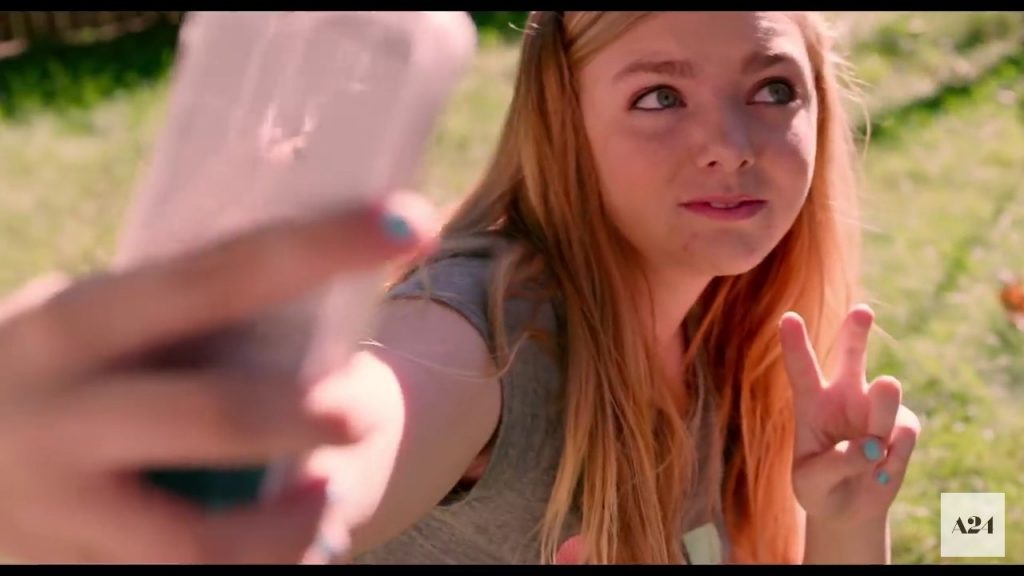 2018 wasn't just home to big-budget sequels and Marvel movies; there were a number of fantastic indie films as well. Eighth Grade is the directorial debut of Bo Burnham, a stand-up comedian most well known for his break out success on the internet and resulting popularity in the modern wave of comedians. It tells the story of Kayla (Elsie Fisher), an eighth grade girl experiencing the standard plight of an eighth grader. Struggling to deal with school life, relationships, and the onset of high school, Kayla turns to making Youtube videos as a coping mechanism. Kayla's journey through the end of eighth grade is one of the most grounded and honest takes on growing up as a middle-class teenager. It handles technology in a way that is incredibly realistic, and depicts our ties to the internet in a meaningful way. Elsie Fisher delivers an absolutely astounding performance that feels incredibly real, cementing herself as an actress to watch in the future.
6. Black Mirror: Bandersnatch
I had troubles deciding whether or not to place Black Mirror: Bandersnatch on my "Best Movies" or "Best Television" list, but it lands here after some consideration. Although it's part of the Black Mirror television series, this Netflix original movie stands out as a groundbreaking attempt on interactive cinema. With their remote in hand, audiences dive into the story of Stefan (Fionn Whitehead), a computer game developer living in the 1980's. Stefan spends his days with his single-parent father, developing a video game adaptation of the fictional choose-your-own-adventure novel, Bandersnatch. As Stefan struggles with his grip on reality and his perception of time, the story starts to get weird.
Bandersnatch stands out due to the interactive element, which feels much like the choose-your-own-adventure formula featured in the narrative. When Stefan is presented with a choice, viewers must make the choice for him. Between breakfast cereals and contemplating murder, Stefan's path is very much dictated by your hand. This leads to a branching narrative with multiple endings, and few of them are happy. Bandersnatch gives viewers the expected dose of psychological thriller mixed with technology that they hope for out of a Black Mirror television episode. It also adds in a surprisingly effective interactive element, essentially placing the audience within the narrative. The choose-your-own-adventure formula has been attempted in movies before, with the most popular example being 1985's Clue, which featured different endings depending on the theater you viewed it in. Black Mirror: Bandersnatch nails both the concept and execution, and only stutters in storytelling occasionally. I highly recommend this to anyone looking for a unique viewing experience.
5. Avengers: Infinity War
With 2018 being the ten year anniversary of the Marvel cinematic universe, you'd expect them to come with their A-game. That assumption would be correct, if only based on the great Marvel standalone movies that were released in 2018. That said, Avengers: Infinity War represents something beyond a major big budget blockbuster. It's the culmination of ten years of storytelling, spread across dozens of beloved movies. Infinity War brought all of those heroes together in a massive cross-over story, with one of cinema's most powerful antagonists. Thanos (and his climactic snap) will go down in movie history as one of the most effective and shocking villains. To say that Infinity War was a hit is a massive understatement; it sits in the top five most-grossing movies of all time.
Avengers: Infinity War was directed by the Russo Brothers, who have shown off their superhero expertise in past Marvel ventures such as Captain America: Civil War. The fact that the numerous writers were able to jam so many characters into a (mostly) cohesive script is an achievement within itself. Combining that uproarious and amazing action sequences made for a stunning movie experience, and an ending that rocked Marvel fans to their core. We'll have to wait and see how the story ends when Avengers: End Game releases in 2019. Until then, Avengers: Infinity War stands as the most ambitious and successful Marvel film ever released.
4. Mission Impossible: Fallout
The Mission Impossible franchise is an odd one. The first three movies were pretty good, but they still fall into the expected tropes of early 2000's action films. The franchise saw a revival a few years later, with sequels Ghost Protocol and Rogue Nation. The franchise turned over a new leaf, feeling very modern, very cool, and packed with excellent action. Mission Impossible: Fallout defies expectations by being the best Mission Impossible film yet, with an all-star cast and awesome action sequences.
What sets Mission Impossible apart from other cinematic spy-genre titans like Bond and Kingsman is its intelligent storytelling, great use of practical effects, and white-knuckle action sequences. There are a slew of great fist fights, chase scenes, gunfights, and set piece action moments. The story is a mixture of political turmoil and modern spy antics as protagonist Ethan Hunt (Tom Cruise) and his team must retrieve a dangerous shipment of plutonium. Although the concept isn't incredibly new, the execution is nearly flawless. Mission Impossible: Fallout is simply one of the best spy thrillers in recent memory, and far surpasses even the best of the modern Bond films.
3. Mid90s
2018 held its fair share of surprises as well, as Bo Burnham (director of Eighth Grade) wasn't the only creative making a directorial debut. Mid90s is written and directed by Jonah Hill, best known for his work in comedies like 21 Jump Street, Superbad, and the Oscar-winner The Wolf on Wall Street. Hill has always worked purely as an actor, so it was interesting to check out his first feature film; a period piece that takes audiences back to the 1990's.
Mid90s focuses on the story of Stevie (Sunny Suljic), a young teen boy growing up in Los Angeles. His home life is less than ideal, as he frequently suffers emotional and physical abuse from his older brother, Ian (Lucas Hedges). Stevie finds a group of endearing skaters, and quickly falls into their group and the hobby of skateboarding. It's a combination of the classic coming-of-age tale and a nostalgic look at the 90's, viewed through the eyes of an emotionally damaged young boy. Mid90s will be far more effective for those who grew up in the era, but it has merits far beyond that. Jonah Hill has created something very memorable and personal with Mid90s, and I can't recommend it enough.
2. Spider-Man: Into the Spider-Verse
When I went into the theater to see Spider-Man: Into the Spider-Verse, my expectations were reasonably high. I had heard great things from other critics, and the buzz online was exceptional. Surprisingly, my hype level was met and surpassed by this stunning animated film. Not only is Spider-Man: Into the Spider-Verse 2018's best animated movie, it's also one of the best Spider-Man films to date. The quality of the storytelling rivals the original Spider-Man from 2002, and the action and intrigue excels past the recent Spider-Man: Homecoming (2017).
Into the Spider-Verse earns its spot on this list with its unique animation and art, memorable and personable characters, and honest storytelling. It's a superhero movie that feels relatable and grounded, despite its more extravagant plot points. Every character is performed exceptionally well, resulting in a film with very little negatives. Even if you're sick of Marvel superheros and Spider-Man, you owe it to yourself to check out Spider-Man: Into the Spider-Verse. It's a breath of fresh air in the field of animation and CGI, which is quite a feat, considering just how unique and robust modern animated films have become.
1. Ready Player One
My pick for the best movie of 2018 is highly subjective, and I can already hear the cries of "overrated!" echoing from the internet. While Ready Player One has its fair share of missteps and mistakes, it's a wild thrill ride through the pop culture of the past. The story follows Wade Watts (Tye Sheridan), a young man living in the near future. In this fictional future, most of America's citizens interact with each other via the "Oasis"; a fully immersive virtual reality that has taken the place of everyday life. The world of Oasis is chock-full of memorable characters from your favorite television shows, video games, and movies. As Wade makes his way through the Oasis attempting to collect three hidden keys, the audience gets a smattering of nostalgia, pop culture references, and amazing CGI.
To some, Ready Player One embodies everything wrong with modern cinema. The overarching plot is classic "young kids versus big-bad corporation", and it's based on a young adult novel about a dystopian future. Futhermore, it bombards the viewer with nostalgia and pop culture references so often, it's hard to go one scene without spotting some sort of easter egg or nod. However, as someone who grew up reading the original Ready Player One novel and spent an unhealthy amount of time playing video games and watching movies, this movie adaptation gets the job done. It's directed by Stephen Spielberg, so there's plenty of charm and a whimsical nature. This lighthearted attitude, combined with breathtaking CGI and an obscene amount of pop culture references, makes for one hell of a fun ride. Logistically speaking, the amount of different characters and properties stuffed into Ready Player One is a feat within itself. How many other movies can you name that feature Chucky (Child's Play), Goro (Mortal Kombat), Harley Quinn (Batman), Godzilla, Gundam, and the Teenage Mutant Ninja Turtles all fighting side-by-side? At its core, Ready Player One is a 80's/90's nerd's wet dream, and I fall firmly into its target demographic. Ready Player One might play on our most basic instincts of nostalgia and high-budget visuals, but I don't think that's necessarily a negative.